I can't praise the traineeship highly enough. The on-the-job learning, practical experience and training provided helped turn my interest into a career.

Nature Reserves Officer, Ulster Wildlife
If you're looking to pursue a career in conservation but don't have the skills or experience employers are looking for yet, why not consider our Nature Skills Traineeships?
Our traineeships offer excellent opportunities to gain the vital skills and experience needed to gain paid employment in the conservation sector, through training and work-based learning. Our successful traineeship scheme has been in place for many years and we are proud that so many of our trainees have gone on to develop their careers in conservation.
This year, we are recruiting 9 trainees to join an exciting 12-month placement, either full-time or part-time, which offers:   
A training bursary of £13,261.25 for the full-time positions and £7,956.75 for the part-time positions.
Upskilling in conservation skills to boost the chance of employment in the sector.
Practical hands-on work experience with Ulster Wildlife's land or seas' teams.
Comprehensive classroom training sessions at an introductory level on habitat management, flora and fauna ID and control of invasive species.
Mentoring support throughout the 12 months to help with progression to employment within conservation.
Due to our commitment to diversity, we are actively looking to engage young people under the age of 24, people from ethnic minority groups and people who consider they have a disability.
FAQ's
What's involved?

As a trainee, you'll take up a year-long placement with Ulster Wildlife, working five days a week, normally Monday and Friday, 9.00am to 4.30pm, with the possibility of evening and weekends if needed.  We also offer part-time positions too, requiring a commitment of three days a week instead of five.

The first six months involve working alongside Ulster Wildlife staff gaining skills and experience across our nature centres and projects. The final six months are spent developing and delivering your own self-led environmental projects or campaigns.

Placements are supported with a £13,261.25  annual bursary for full-time trainees and £7,956.75 for part-time. A training budget is also provided to allow you to learn the skills you need for your placement and future employment.

We offer full-time and part-time positions for both the nature reserves and marine positions.
What could I be doing?

Activities include reserves management, habitat restoration, biodiversity monitoring along with the opportunity to help with one of our many public engagement events, schools or community education sessions.

Becoming a trainee is a once in a lifetime opportunity for those who are looking for practical on-the-job training and are motivated to pursue a career in Northern Ireland's natural heritage sector. You'll develop your own personal portfolios of your years' experience, complete your own self-led project and have the opportunity to work with other external organisations to complete a short placement.
When can I apply?
How to apply?

Applications for 2020 are now closed.
What are the terms and conditions of the traineeship?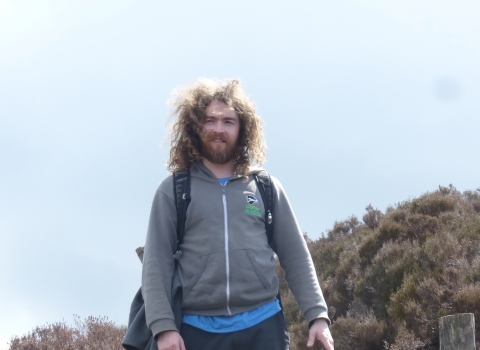 Ryan's story
"Having studied film and photography, I had been working with a homeless charity and also volunteering with Ulster Wildlife at Bog Meadows Nature Reserve. The traineeship afforded the opportunity to learn on the job and provided that all important stepping stone I needed to secure employment. I developed knowledge in many key areas, broadening my understanding of habitat management and developing practical skills in the use of machinery.  I am now able to apply my learning on a daily basis in my role as Nature Reserves Officer with Ulster Wildlife and enjoy passing my knowledge and skills to other new trainees."