For every 30 hedgehogs in the UK in 1950, there is estimated to be only one left today
Help Ulster Wildlife protect our prickly friends - who are under threat from habitat loss, agricultural intensification, land development, slug pellet use and increased road traffic.
By adopting a hedgehog today you are helping make sure their future is secure. Ulster Wildlife restores habitats for hedgehogs and other wildlife, on our nature reserves; over the coming year we plan on increasing our baseline knowledge of their numbers in Northern Ireland, through annual surveys in conjunction with the Irish Hedgehog Survey; we also provide the public with information, support and advice on helping hedgehogs in our neighbourhoods. Your adoption will help us achieve all of these things. Find out more about our conservation work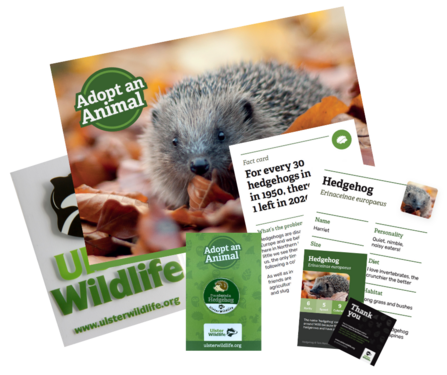 What's in your adoption pack?
Animal adoptions are only £25 per year and you will receive: 
Your adoption postcard, with space for a note - if you intend to gift the adoption
Species fact cards
Ulster Wildlife car/window sticker
Your Adopt a Hedgehog pin badge - to show your support of hedgehog conservation efforts!
Biannual email updates on our hedgehog conservation work
Adoptions as Gifts: If you are buying an adoption as a gift, there is a postcard in the pack with space for your gifting message, and an extra sticker inside so you can reseal the package before giving it to your gift receiver. Now you are good to gift!