Creating a vibrant community hub
'Our People, Our Places' is our exciting new community engagement project. Over the next four years, we will be working to create a vibrant community hub centred around Bog Meadows Nature Reserve and neighbouring St. James Community Farm. 
The project will help strengthen social networks, develop skills and build community capacity by offering traineeships and a range of volunteering events and education programmes based around nature, conservation, animal husbandry and gardening, all thanks to the National Lottery Community Fund.
Want to get involved?
Please have a look at the information below highlighting the various ways you can get involved with the project and then register your interest using the webform below
NatureFit – Volunteer Programme

Would you like to help the team at Bog Meadows look after the nature reserve and its wildlife? Or perhaps you would like to meet new people and learn new skills? Or maybe you just want to get outdoors to improve your health and wellbeing? Whatever the reason, and no matter what your skills, interests or availability are, the 'Our People, Our Places' project has volunteering opportunities for all.

The NatureFit Programme runs every Monday and Wednesday from 10am – 3pm and on the first Saturday of each month from 10am-1pm.
Youth Engagement Programme

We will be engaging with young people in a number of ways through the 'Our People Our Places' Project. Take a look at the options below for ways that your pupils or children can get involved.

· Visits to the nature reserve or classroom with activities related to the curriculum and outdoor learning.

· Wildlife Watch Club – an environmental action club for children and families with lots of fun nature and wildlife activities. The Wildlife Watch Club will be held once a month in the evening and is for children aged 8-13 years old.

· Nature Tots – weekly sessions of outdoors, nature-based activities for pre-school children.
Community Group Activities

We also offer programmes of activities for community groups to help them engage more with the nature reserve and its wildlife. This can include activities such as guided walks, tree planting, identification of wildlife/trees/wildflowers, wildlife photography, bushcraft, nature conservation based activities etc. and can be tailored to suit the needs of the group.
Events

There will be an annual programme of events - please check back in April for the calendar of events for 2021, or keep an eye on our facebook page.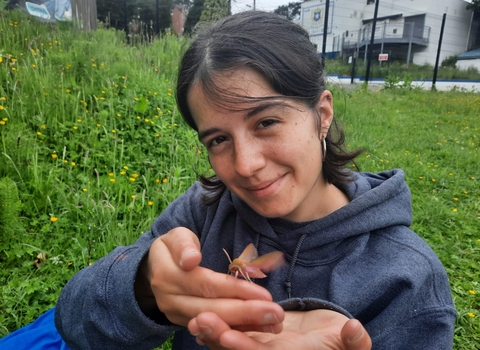 My Bog Meadows experiences
Hi! My name is Aoife de Bhál and I am a trainee Nature Reserves Assistant on the Our People Our Places project based at Bog Meadows Nature Reserve, in west Belfast. I will be sharing my experiences here over the next 9 months, so keep your eyes peeled!
Read Aoife's blog