Peatlands cover just 3% of the world's surface and yet hold twice as much carbon as all the world's forests combined, illustrating their global significance in mitigating climate change
Why are Peatlands important?
Peatlands are a unique part of our natural environment, home to plant species found nowhere else. They provide food, shelter and breeding habitat for many animal species. Our peatlands or bogs are home to nationally and internationally important biodiversity including birds such as hen harrier and golden plover.
Peatland covers about 18%  of Northern Ireland, more than double the area under trees, and store huge amounts of carbon. Healthy bogs provide us with clean and drinkable water - 70% of the UK's drinking water comes from upland catchments, many of which are covered in blanket bogs.
They also preserve some of the oldest and most fascinating archaeological remains - roads, settlements, monuments and even bodies. They are national treasures and humans have gained enjoyment and benefit from them for generations
It is estimated that time spent for recreation on peatlands in the UK, in 2016, was 180 million hours valued at £274 million.
But when our peatlands are damaged it can have devastating consequences on the habitat, the wildlife and ourselves. That makes restoring them urgent and essential.
The net benefits, in terms of climate change emissions alone, of restoring 55% of peatlands to near natural condition are estimated to have a present value of approximately £45billion to £51 billion - ONS UK Natural Capital: Peatlands Report 2019, Hazel Trenbirth/Adam Dutton
Our work saving and restoring peatlands across Northern Ireland
Peatland covers about 18%  of Northern Ireland, more than double the area under trees, and store huge amounts of carbon
How you can help
Be a responsible gardener and choose peat free compost
🛒 Buy specifically labelled peat-free compost
♻️ You will be protecting peatlands & sending a message to manufacturers that people want peat free-products
💰 The more peat free products there are, they cheaper they will become!
🌱 Or why not choose an alternative like using composted waste from your own garden or bark chippings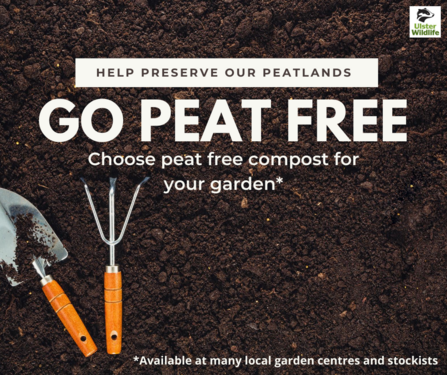 Discover wildlife of our peatlands & wetlands