My Bog Meadows' Experiences
Hi! My name is Aoife de Bhál and I am a trainee Nature Reserves Assistant on the Our People Our Places project based at Bog Meadows Nature Reserve, in west Belfast.

Here I share my experiences over the course of the traineeship, from learning about local wildlife across our nature reserves to undertaking practical conservation work, leading educational activities, and helping to deliver community engagement projects, here at Bog Meadows.
Events
The summer is one of our busiest times at Bog Meadows: it's been a whirlwind of public events, summer schemes, and practical work. 
One of my highlights of the summer was the Bog Meadows Summer Scheme. For five days, we were joined by a group of inquisitive and energetic young people, eager to learn about the natural world around them. They took part in a range of activities including minibeast hunting, bird watching, nature art, a trip to St. James's Community farm, and DIY woodfired pizzas. 
I particularly enjoyed our trip to Groomsport beach and the contagious excitement of rock-pooling. Erin McKeown from the Living Seas team and our ESC volunteers did a brilliant job, not only pointing out skate egg-cases and hermit crabs but also instilling the wonder and importance of our marine life in the next generation. 
Beyond this, we had a wide range of public events throughout the summer, including storytelling, a bat night, and a guided foraging walk. You haven't lived until you've tried wild sorrel leaves and fresh blackberries!  
I also had the chance to deliver several Irish-language events in partnership with Féile an Phobail, including a Wetland Wildlife Safari and a guided walk on the ecological, cultural and social heritage of Bog Meadows. This was a great opportunity to engage with the growing Irish-language community in West Belfast and to promote indigenous names for places, wildlife, and the stories behind them.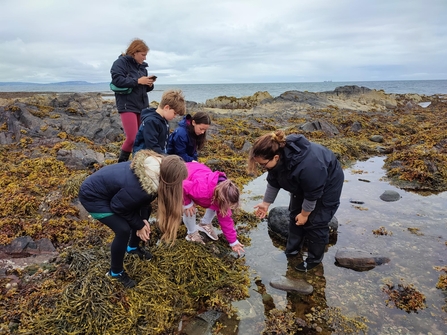 Goodbye to our ESC volunteers!
After having helped us deliver a fantastic summer of events, we sadly had to say goodbye to our ESC volunteers as they headed back to Spain and France. They have been such an invaluable help on-site and I can't imagine my Bog Meadows experience without them. Buena suerte and bonne chance! Hopefully, we will see you back in the bogs soon!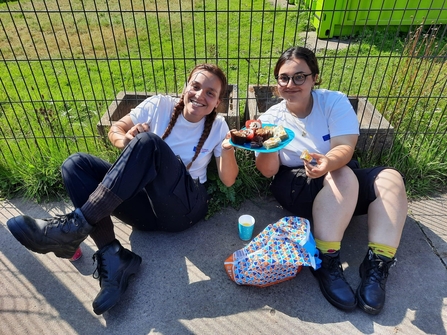 Conservation work on site
There is always plenty of practical work to be done on-site and the summer is no exception. We have been busy cutting back vegetation, to allow our wildflower meadows to flourish next year, as well as removing non-native, invasive species such as Himalayan balsam. Thankfully, we have had several large corporate groups, as well as our trusty team of local volunteers, to help us!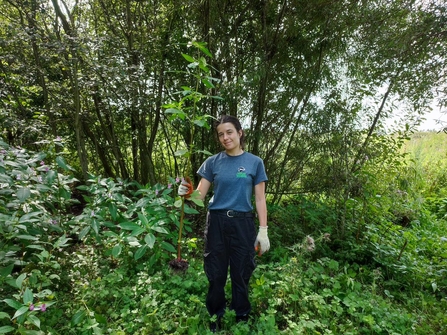 Nature spotting
Mushroom season is well underway and this year, I've been trying to improve my fungi identification skills – little did I know how tricky this would prove to be! Here are some of my favourite finds from our sites over the last couple of months.