Nature Notes 17 November 2020
Observations from staff and members on our Nature Reserves this week.

Nature reserves may look completely wild, but our 19 reserves across Northern Ireland are actually carefully managed by a dedicated team. We protect, restore and create a mix of habitats where wildlife can thrive.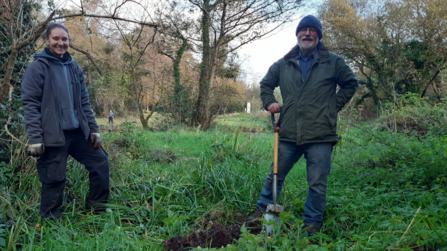 Balloo Woodland Nature Reserve
The team were delighted to receive a donation of 15 small-leaved lime trees from Ulster Wildlife member Phil Allen. Phil also joined us to plant the trees at Balloo Woodland, whose flowers will provide a magnet for pollinators such as bees, butterflies and moths when fully grown ~ Ryan, Nature Reserves Officer
Moneygal Bog
Not an Ulster Wildlife nature reserve, but one of the many peatland sites we are helping to restore across NI as part of the Collaborative Action for Natura Network (CANN) project. Our ESC nature reserve volunteers helped the CANN team clear invasive conifers from Monegal Bog, in West Tyrone, which were encroaching from a nearby plantation.
Unlike a woodland, a healthy peat bog habitat will not typically have trees growing directly on it, but trees sometimes find their way to a bog and are able to grow if the bog has become unnaturally dry. If the trees are not removed they will continue the drying process and further degrade the bog. Once we have blocked all the drains on Moneygal, the bog will be too wet for the conifers to grow again ~ Simon, Technical Officer, CANN Team