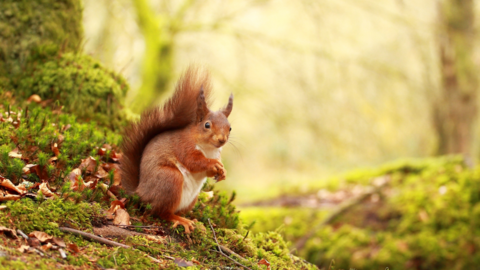 Red Squirrel Walk – Red Squirrel Awareness Week
Location:
Glenarm Car Park,
Coast Road, Glenarm
Book
As part of Red Squirrel Awareness Week we will visit our nature reserve in Glenarm to see if we can spot signs of red squirrel activity, and maybe even red squirrels themselves! We will also find out about the reserve itself. Bring suitable footwear and clothing for a woodland walk.
About the event
Toilet facilities: At car park at start and end of event.
Covid-19 Events Briefing
You will be required to answer these questions on arrival at the event: 
Have you had a positive Covid-19 diagnosis or have been symptomatic within the previous 10 days?
Have you come into contact with anyone who has had a positive Covid-19 diagnosis, or has been symptomatic within the previous 14 days?
Have you travelled to a restricted area requiring quarantine upon return in the last 14 days?
We suggest you use toilet facilities at home before you leave. Bring a face covering and your own water bottles and snacks as we cannot provide catering.
Please follow the instructions of the leader.
Where possible, keep two metres apart from other people throughout your time at the event.  Where it is not possible to be two metres away, keep at least one metre apart and wear a face covering.
Maintain high standards of hygiene throughout the event – use your own hand sanitiser if you have it or use the ones provided regularly and try not to touch public areas such as barriers, gates etc.
Dispose of litter responsibly in the bins provided.
Please don't be offended if we remind you to comply with social distancing rules etc – we're doing it to keep you and everyone else safe.