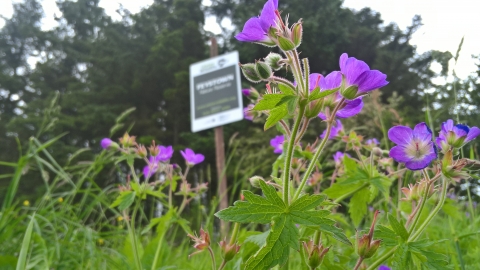 Our smallest nature reserve: this pleasant meadow is the prime site for one of Northern Ireland's rarest flowers - wood cranesbill.
Know before you go
Entry fee
N/A
Grazing animals
Yes
Access
Not open to the public. Best viewed from the roadside with care to avoid damage to the wood cranesbill. 
When to visit
Opening times
N/A
Best time to visit
June to August
About the reserve
Located in the Glens of Antrim, this meadow is traditionally managed by annual cutting followed by grazing with livestock.
This practice ensures the survival of the beautiful but rare wood cranesbill, which is only found at a select number of locations in Northern Ireland, all within the Glens of Antrim.
Seeds from Feystown were successfully used to grow plants for other suitable nearby sites to increase the range of this species. Although small, this is still a good place to see butterflies such as orange-tip, green-veined white and meadow brown.
A range of other species-rich meadow plants can be found here, such as common knapweed and yellow rattle.
As Feystown is a small nature reserve and sensitive to trampling it is not open to the public, but can be viewed from the roadside with care.
Species
Habitat
Environmental designation
Area of Special Scientific Interest (ASSI)