As an independent charity, our members and donors make our work for nature possible and provide the majority of the funds we spend looking after wildlife and wild places and bringing people closer to nature in Northern Ireland. We are grateful to every one of you for supporting us. Thank you!
To help us make an even bigger impact, we also receive funding from grants and from corporate partners for specific projects.
We are your local wildlife charity
Around 87p of every £1 is spent on our work looking after wildlife and wild places in Northern Ireland. You can find more information in our Annual Report and Accounts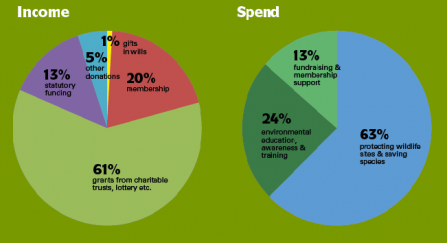 Thank you!
Every single one of Ulster Wildlife's supporters is at the heart of what we do - from protecting threatened wildlife like barn owls, red squirrels and bees to saving some of Ulster Wildlife's last wild places and inspiring the next generation of children to love nature. 
Funding partners
We are also grateful to a number of funding partners for awarding grants for specific projects. Some of our main sources of support include the players of the National Lottery through the National Lottery Heritage Fund. Some Local Councils and Government Agencies and Departments also support some specific projects.