This World Oceans Day we have been taking a bit of time to reflect on our favorite moments close to the ocean.

We all work for Ulster Wildlife because we are passionate about protecting all aspects of nature, on land and seas, but there is something about the ocean and its wildlife that captivates every one of us!

Read on for some of our thoughts and favourite memories relating to the ocean.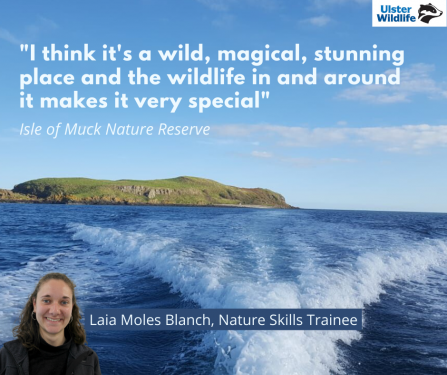 One of my favourite coastal sites in Northern Ireland is the Isle of Muck. I had the chance to be on it several times as a volunteer with the Nature Reserves Team. I think it's a wild, magical, stunning place and the wildlife in and around it makes it very special. My favourite memory of this island is from a day that we were walking around and checking some camera traps. Suddenly we saw a group of porpoises swimming in front of us and right after a peregrine falcon flew into the cliffs where some sea birds were nesting. Getting to see those wild animals so close was a great experience! 
Laia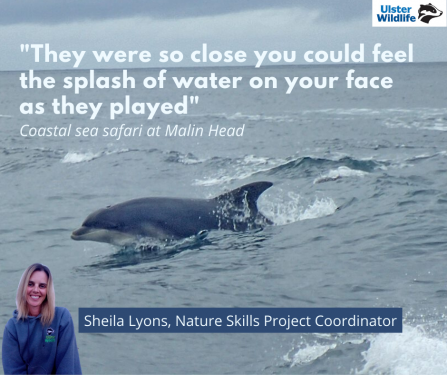 Best experience for me was the boat trip with our 2017 trainees off the coast of Donegal and Malin Head. We went on a Basking Shark safari with Aquaholics, whilst we saw no sharks that day, we saw plenty of other marine wildlife, including a pod of 12 dolphins who swam beside us and jumped the surf of the boat for over half an hour. They were so close you could feel the splash of water on your face as they played in the water. I thought that was going to be the main encounter I would ever have with cetaceans in our waters, but was blown away by the visiting orcas only 5 miles from my house when they came up Strangford Lough a few weeks ago. Right time, right place, but there's so much wildlife on our doorstep to enjoy!
Sheila
Mine definitely has to be my encounter with the killer whales on Strangford Lough a few weeks ago. Getting to see these magnificent animals during these challenging times and just down the road from where I live was a total gift. What struck me afterwards was the awe and joy in people's faces and the power that nature has to lift our spirits.
Dawn M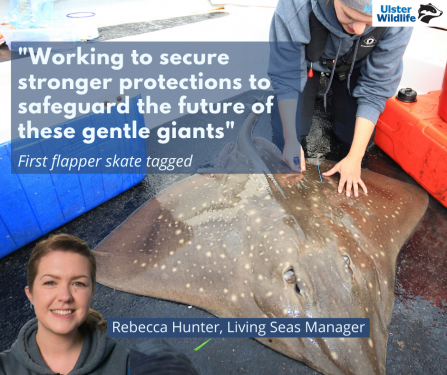 A few years ago I joined a boat trip with licensed anglers to target one of the most endangered animals in our seas - the flapper skate. We were on the water for over 8 hours but the wait was completely worth it as we caught and tagged the first flapper skate of our Sea Deep project! These incredible animals live up to 100 years old and can grow 3 meters in length. They are exteremely vulnerable but we're working to secure stronger protections to safeguard the future of these gentle giants.
Becks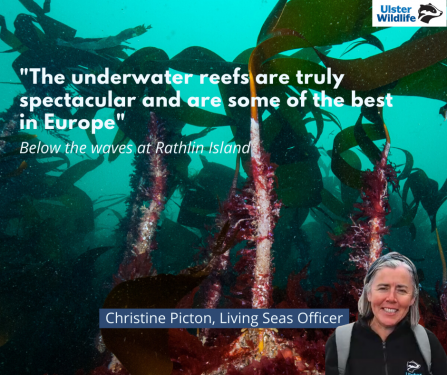 So much of Northern Ireland's coastline is stunning and offers a wide variety of habitats and species to explore but if I had to choose, my favourite place would be Rathlin Island. As a marine biologist I have been privileged to have had many adventures on Rathlin, both above and below the waves. The underwater reefs are truly spectacular and are some of the best in Europe for sponges and sea firs (colonial animals that look like plants but are actually related to jellyfish and corals). I have so many fond memories of Rathlin with my children when they were young, from seeing the gannets dive bomb whilst fishing, puffins with their beaks full of sand eels and watching basking sharks, seals and jellyfish swimming past our boat. I also remember the times I took them rockpooling to help me find sea anemones and sponges!
Christine P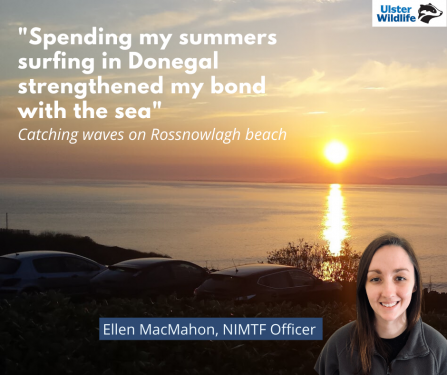 Despite growing up in a landlocked county, I am fortunate that my Grandparents live only a stone's throw away from the coast. Spending my summers surfing in Donegal strengthened my bond with the sea. To this day, there is no better feeling than heading to Rossnowlagh beach to catch some waves
Ellen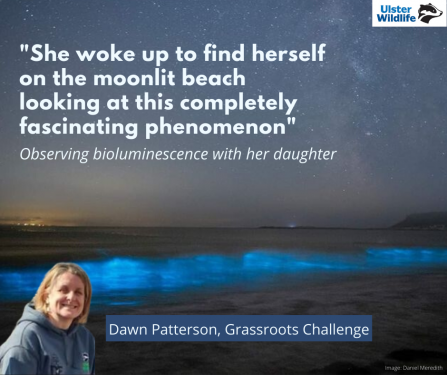 I think the sea has a magical quality and have been keen that my children experience this. When my eldest daughter was 4 I heard that it was possible to see bioluminescence at Kilclief so one evening when there was a beautiful bright full moon I decided to take her down to see it. I didn't tell her we were going to the beach, I wanted to surprise her, it was very late so she was sleeping when we arrived. She woke up to find herself on the moonlit beach looking at this completely fascinating phenomenon. I think she thought it was real magic. Like me, now she loves the sea too and this is one of her favourite memories.
Dawn P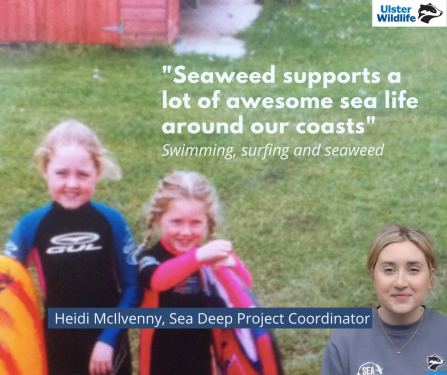 I have always loved swimming and surfing in the sea but the seaweed touching my feet used to freak me out as a kid. But once I looked a little closer and learned that the seaweed supports a lot of awesome sea life around our coasts it stopped freaking me out so much!
Heidi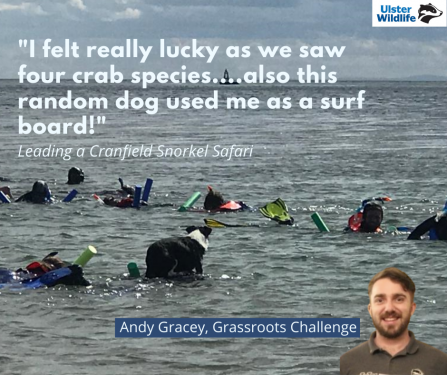 Last year August 29th we did a snorkel safari in Cranfield Co Down and I had two kids who were fab and absolutely loved all of it and I felt really lucky as we saw four crab species, shore, edible, hermit and spider which was a real winner also this random dog used me as a surf board!
Andy G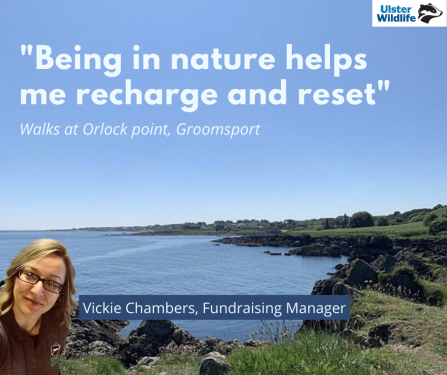 I spent a large part of my life in landlocked countries or places with very litlle coastline. I moved back to Northern Ireland 10 years ago, and I knew I had to live somewhere by the sea. My family connections brought me to Donaghadee and my favourite place to be is Orlock. I can go there to spend hours watching the 6-spot burnets and even the gorse bushes are magical to me. But its those moments, sitting on the rugged cliffs with my legs danggling over, looking out at the Irish Sea that I treasure. I truly believe that resilience is about how we recharge and reset, not about how we fix things, and Orlock is my re-charging point!
Vickie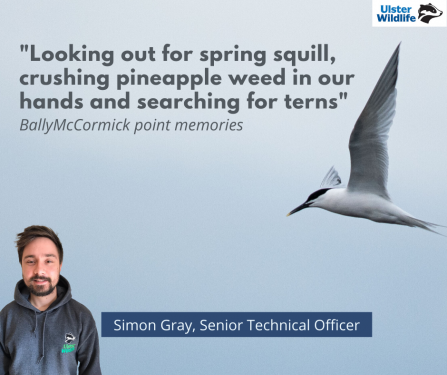 The thing (except friends and family of course) that I miss so much living down in Fermanagh is the sea! Having grown up by it at Bangor then it leaves a hole when it's not around. One of my favourite spots is BallyMcCormick Point in between Bangor and Groomsport. Every summer we'd walk from Ballyholme round to Groomsport and look out for the Spring Squill coming into flower, crushing pineapple weed in in our hands and search for the sandwich and common terns! Last year I managed to get a shot of this sandwich tern while we were making our way round.
Simon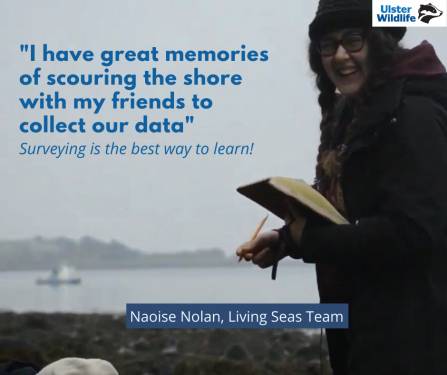 I have been lucky to travel around much of Northern Ireland's beautiful coastline, exploring the wonderful biodiversity that our shores have to offer. However, my favourite place to visit along our coast is Portaferry. I have been privileged to participate in many different surveys while visiting Portaferry for field course work with my university, so I have great memories of scouring the shore with my friends to collect our data, and discovering the wonder of our local marine plants and animals. I feel that I learn more as a marine biologist when I am able to be out on the shore looking at the wonderful species found on our coasts, as the experience on the shore improved my skills at identifying the different species that we can find on our shores.
Naoise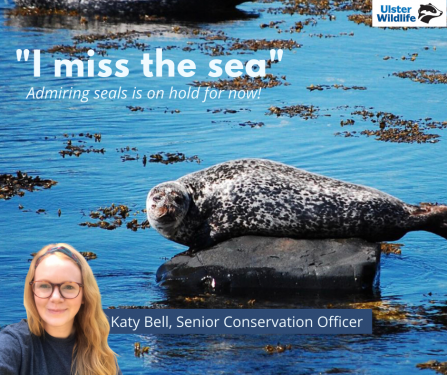 I miss the sea! I grew up by the sea and haven't been able to get to the coast since lockdown started. I am normally watching eiders, looking for terns and admiring seals at this time of year. Not to mention all my favourite coastal plants; and looking for bees and butterflies on them!
Katy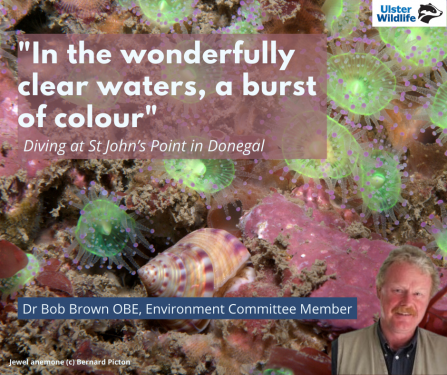 Oceans and seas are often dismissed as inconvenient gaps in the important business going about on land. The reality is very different, as our marine life (and ancient mariners) can testify! One of my most memorable dives was St John's Point in Donegal, swimming out from the lighthouse, and then dropping some fifty feet past a series of underwater ledges and overhangs, leading down a steep cliff. At depth, the light is a sort of monotone bluey-green, but just turn a torch on! In the wonderfully clear waters, a burst of colour – pinks, purples, greens and yellows, the whole rock face smothered in luminous pink calcareous algae, jewel anemones and cup corals, their small tentacles gently wafting back and forth in the oceanic swell. Their name says it all, and the different patches of psychedelic colour reflect the different clones of budding anemones.
Bob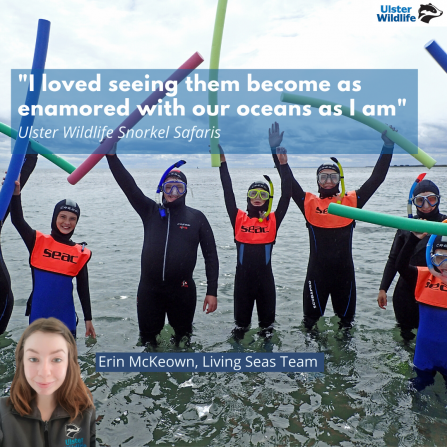 Time spent on Ulster Wildlifes snorkel safaris will always be something I cherish. I discovered more about our own coasts having gained an appreciation for the diversity of habitats we have. From rocky shores along the North coast to sandy beaches packed with hermit crabs around Carlingford Lough. I also loved seeing members of the public become as enamored with our oceans as I am.
Erin