It's time for young people to #learnmoreoutdoors
We asked Dakota and Frances, both final year students in International Politics at Queen's University who have been actively involved with Ulster Wildlife's Our Bright Future youth advocacy group, to tell us why it is so important for young people to learn more outdoors.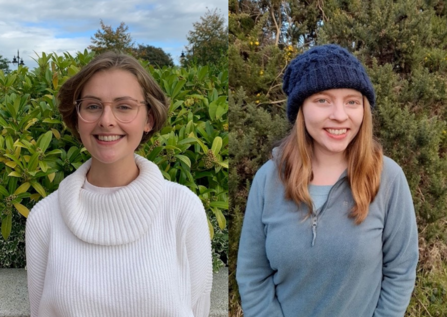 In the end, we will conserve only what we love; we will love only what we understand and we will understand only what we are taught.
Our education system aims to offer our young people a well-rounded curriculum. Yet pupils leave our schools without a knowledge of common birds, mammals and insects and get little opportunity to spend time outside, despite ample evidence proving that learning outdoors improves student wellbeing, decreases stress levels and increases care for the environment. With the climate and biodiversity crises posing a threat to our way of life, it is absolutely vital that pupils get the chance to connect with nature as a core part of their curriculum.
With policy-makers' focus switching to rebuilding our society after the pandemic, this is the perfect opportunity to make our education system fit for a sustainable future. Many environmental organisations are calling for a 'Green Recovery', which is traditionally focused on economic investment in energy, technology and transport. But we're not investing in our future when over 80% of children can't recognise a bumblebee. We need to build an education system that facilitates learning to value nature. And it needs to be accessible to everyone – including those attending schools in deprived areas. Then we will be investing in future generations who can go on to work in the green jobs we will create, develop the green technologies we need and lead us into a carbon neutral future. Investing in a greener education system will show true dedication to sustainable change. Investing in education is investing in the future.
Learning outdoors is vital for young people's wellbeing and will enhance their education. With learning becoming increasingly screen based, we have both experienced the benefits to our concentration levels from spending time outdoors. Not everyone has access to a garden and so green spaces in schools might be one of the few opportunities for other young people to learn about nature and experience the health benefits of time spent outdoors. Now more than ever we need to give young people the opportunity to #LearnMoreOutdoors!
But on a broader scale, this is an essential change in educational priorities that we need if we are committed to building a more sustainable future. We cannot expect our young people to play a role in fighting the climate and biodiversity crises if they have not received equal access to learning in and about nature. Schools can take their own steps towards making their sites more wildlife-friendly by leaving space for nature, but we could achieve so much more with support from the Department for Education. With funding from the Education Minister, schools could have assistance with designing and delivering lessons outdoors for various subjects. Executive support could ensure that schools in all areas have the resources to make their sites a haven for wildlife to facilitate pupils learning about their local environment, no matter where they live.
Growing numbers of young people are calling for more time spent learning in and about nature. We are calling on the Education Minister Peter Weir to meet with us to discuss the importance of learning outdoors for our young people.
If you would like to support our campaign, check out our videos released over the coming weeks here and share the #learnmoreoutdoors campaign on social media.