What is ShoreNI?
Our ShoreNI citizen science intertidal survey has become increasingly popular, with over 3,000 records submitted so far by volunteers across Northern Ireland, since its launch in autumn 2020.
By getting involved in ShoreNI you will help develop your coastal marine wildlife ID skills, which in turn will improve our knowledge and understanding of some of the most important species along our coastlines.
We will provide you with: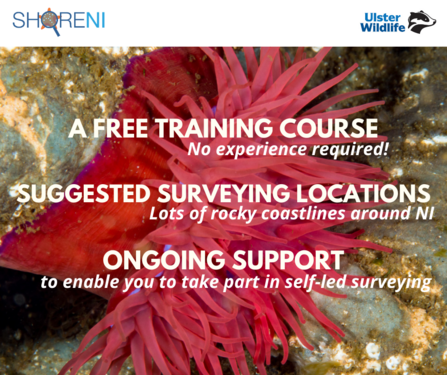 Why do we need to record our marine wildlife?
Our rocky shores are alive with life, from fluorescent snakelocks anemones to slippery butterfish, nudibranchs the butterflies of the sea, a range of multi-coloured seaweeds and much, much more. 
Sadly, these incredible areas are increasingly threatened with pollution and the negative effects of invasive species and climate change.
By taking part in this survey, you will help to build up a stronger picture of the wildlife and habitats around our coast, providing crucial information to inform conservation and management decisions.
You will also develop your skills in species identification and will become part of a community of local marine recorders. 
How do I get involved?
All you have to do is book onto one of our FREE online training courses - where you will find out all you need to know to enable you to get started identifying and recording coastal marine wildlife.
Note: You only need to attend a SINGLE session, so choose a date that suits you.
Shore NI training courses will be available in March and September 2021. Please keep an eye on our events page for exact dates.
FAQ's
I'm a complete beginner – is this for me?

Absolutely! Our online training course will tell you all you need to know to get started – from basic species identification skills, to top tips for surveying and how to use the handy recording app. By taking part you will develop your ID skills and understanding of our coastal wildlife. Ulster Wildlife staff will be on hand to help with further training, identification advice and small-group surveys. Best of all, you don't need to identify your find to submit a record so you can make a difference from day one! 
Can children take part too?

Our online training course is best suited for adult recorders but that won't stop you bringing the whole family along to the shore.

We also have handy spotter sheets to keep the kids busy! Links below

 
Is the survey restricted to certain areas?

This is a self-led survey programme and after joining a training session you can start straight away at whichever coastal areas you like. The survey is focused on rocky shore areas (rather than sandy beaches) but luckily the majority of our coasts are rocky habitats and perfect to survey. If you're not sure of where to go, our staff will point out some of the best spots during the training session.  
How long is the training and what does it cover? 

The online course will run for approximately 1.5 hours, with a few short breaks.

This will cover why recording is so important, species identification, survey safety and using the iNaturalist recording app. 

You will be given links to download the app, and training in its use
What happens to the data I collect?

The species records will be shared with NI's local biodiversity records centre, CEDaR  and the Department for Agriculture, Environment & Rural Affairs so they can be used for marine conservation and management decision making.

Your personal data will not be shared and you can read more about how we protect your data in our our Privacy Notice
Have a question about ShoreNI?
If you have any further questions about becoming a marine nature recorder, please get in touch with Gala Podgornik by emailing livingseas@ulsterwildlife.org
Become a ShoreNI verifier
If you are confident in your marine species identification skills, we would love to hear from you! We are open to experts and passionate citizen scientists alike. You can choose to verify larger groups (e.g. Molluscs) or a series of specific species you feel confident with (e.g. common limpets, bladder wrack, beadlet anemone). If you wish to sign up as a volunteer verifier, please complete the short form below.