Can you remember the last time you saw a barn owl? A sight to make your heart soar
Sadly, barn owls have suffered huge decline over the last 50 years, and it is now estimated that we have fewer than 30 pairs in Northern Ireland. Barn owls urgently need your help to survive.
Once a familiar sight, this iconic farmland bird, sometimes known as the "farmers friend", has declined drastically in recent years by a staggering 60% since the 1930's and is now considered one of Northern Ireland's rarest birds as it is listed as high conservation concern on the Irish Red List.
Extreme weather, loss of suitable foraging and nesting habitat, combined with the build-up of toxins from consuming poisoned prey, are believed to be the main problems faced by this iconic species. They also face more direct risks caused by us, including traffic collisions.
Known for its eerie screech and ghostly white appearance, barn owls are a rare sight these days. Don't let the barn owl become a thing of the past. Find you more about our conservation work.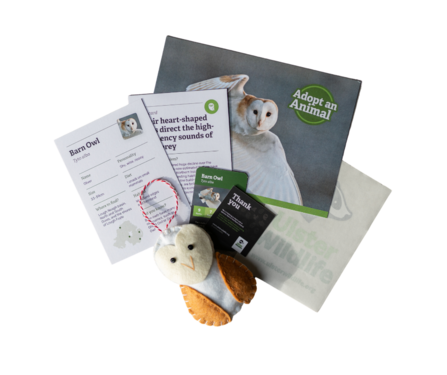 What's in your adoption pack?
Animal adoptions are only £25 per year and you will receive: 
Your adoption postcard, with space for a note - if you intend to gift the adoption
Species fact cards
Ulster Wildlife car/window sticker
A handmade felt decoration - your new friend to treasure!
Biannual  email updates on our barn owl conservation work
Adoptions as Gifts: If you are buying an adoption as a gift, there is a postcard in the pack with space for your gifting message, and an extra sticker inside so you can reseal the package before giving it to your gift receiver. Now you are good to gift!