Seeing a flash of red for the first time is a very special moment and something that everybody should experience.
Red squirrels are natures' gardeners, burying nuts and seeds. The forgotten stores or 'caches' will grow into future trees that sustain a host of woodland wildlife, such as pine martens and jays. They are vital for the health and regeneration of our woodlands.
Sadly, these charismatic creatures are under threat from the invasive non-native grey squirrel which was introduced from North America by the Victorians. Competition from the more robust grey squirrel for food and shelter and infection by the deadly squirrel pox virus – which grey squirrels transmit to reds - has been the main factor in the red squirrel's decline. Red squirrels are also at risk from habitat loss and traffic collisions.
Recent reports indicate that red squirrel populations are starting to recover but without continued conservation management, they could still become extinct within a generation.
Although there is no quick fix to the decline of our red squirrels, by working together, we can help secure their future. Find you more about our conservation work.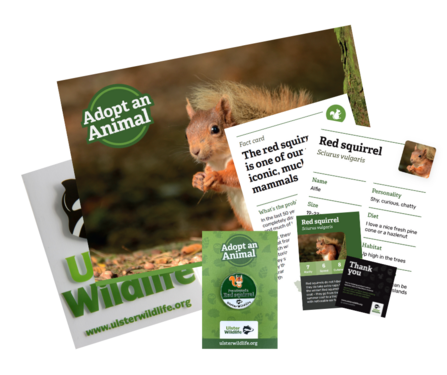 What's in your adoption pack?
Animal adoptions are only £25 per year and you will receive: 
Your adoption postcard, with space for a note - if you intend to gift the adoption
Species fact cards
Ulster Wildlife car/window sticker
Your Adopt a Red Squirrel pin badge - to show your support of red squirrel conservation efforts!
Biannual email updates on our red squirrel conservation work
Adoptions as Gifts: If you are buying an adoption as a gift, there is a postcard in the pack with space for your gifting message, and an extra sticker inside so you can reseal the package before giving it to your gift receiver. Now you are good to gift!