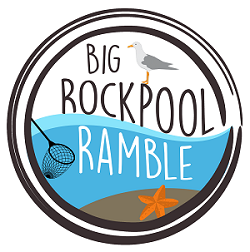 Saturday 24th July to Sunday 8th August 2021
Last year we launched our first Big Rockpool Ramble and it's time to get along to the seashore again! While you are having fun with family or friends, you can also help local nature conservation by taking pictures of the wildlife you see and sending them to us.
How do I take part?
Add your details below and you will be taken to the Big Rockpool Ramble Guide & Downloads page - with everything you'll need to take part, including information on how to rockpool ramble, the best local spots, spotter sheets, staying safe and sending us your all-important records.  
Where and when should I go?
Included in the Big Rockpool Ramble guides there is a map of some of our top rockpooling sites and information about finding the right tide times.  
We encourage you to ramble close to where you live and to follow current government Covid-19 restrictions
What age group is this suitable for?
The Big Rockpool Ramble is suitable for all ages!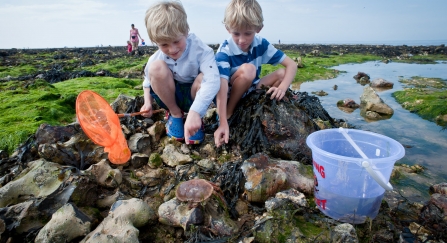 Will Ulster Wildlife help to identify my finds?
The Big Rockpool Ramble pack includes spotter sheets to help you identify your finds. You can also keep an eye on our Facebook, Instagram and Twitter pages for tips and videos from our seas team throughout the week. Always wondered if anemones were plants or animals? We'll tell you there!  
Please note: We receive a high volume of submissions and are therefore unable to get back to you individually with an identification. We will be releasing a full list, containing your name and finds, towards the end of August. This will be sent to all Big Rockpool Ramblers via email.
How will I find out the results?
We'll email all of our Big Rockpool Ramble supporters with the results of the event in early August and keep an eye on our Facebook, Instagram and Twitter pages for fun facts about our most-spotted wildlife! Make sure you send us your records, link below - there will be a prize for the person who submits the most records!
I'd love to take part in the Big Rockpool Ramble!
Sign up now, its FREE, but you have the choice to a small donation if you would like to help local marine conservation!
You will be redirected to the Guides page and will also receive a welcome email - please check your junk folder if its not in your inbox